Obviously choosing 15 albums out of the hundreds of thousands produced is pretty daunting. I've decided to go simply with ones we own, since I know these cds pretty well and even though I'd like to add albums by the Beach Boys or Beatles or maybe Pete Seger or Blind Willie Johnson or Ray Charles to the list or maybe something by Beethoven or Mozart. I don't know truly know anything about a full album of them to add them to the list. Songs yes, albums no. If I don't know what I'm missing it means I can leave them off the list.
When it came down to it, I had to decide which album would I not want to never hear again. This was very difficult. On our iTunes list we have over 4000 songs, 170 days plus worth of music. That's a long list to narrow down. As soon as I publish this, there's going to be 10 more I realize I'd rather have than some of these. Part of the fun of lists like these is in the second-guessing.
I wanted to make number 15 a burned disc of all the songs I wouldn't be taking that I wanted to take, but that seemed like another post for another day.
Without further ado, here's my list, alphabetical order.
Chagall Guevara
by Chagall Guevara
What an album. This one is so sad and raw and angry and hopeful all at once. What a great disc. Chagall Guevara was Steve Taylor, David Perkins, Lynn Nichols, Mike Mead and Wade Jaynes. A great lineup of players and too many personalities for one band. Apparently. They only recorded this one disc, but it remains a top of the list favourite for many people. This cd will sear your heart. If you will let it. Let the lyrics grip you.
Lyrical snippets from Chagall Guevara:
"Every other week on visiting day, I get tolerated by his new wife, I swear, if he ever really held me, They'd have to pry me off with the jaws of life" "My agenda was hidden well, Now I don't know where I left it" "All of us Neros fanning ourselves
Damp with the sweat of regret, Just killing time with our eyes to the skies, Waiting on science our savior" "Hey, don't I know you from some other life? You were wide-eyed and green, And a little bit taller, And you didn't look away, When spoken to"
Chase the Kangaroo-
by the choir ( no capitals is their fault, not mine)
I had to have something by the choir. Many of their fans find their earliest phase to be their favourite and this album is their fourth in the 6 album first phase. Its full of fantastic writing by Steve "Skinny" Hindalong and interesting sound combinations of keyboard, saxophone, lyricon, jangling guitars, musical bass and varied percussion. Over all this is Derri Daugherty's shockingly sweet voice. The liner notes are worth the price of admission alone, for the lyrics, but also for the side bar comments explaining where some of the more obscure lyrics come from and glimpses into the recording process.
There are songs about love here. Songs of worship based on the Psalms. There are songs of life and spirituality and loss and the awesomeness of God. There are songs about the struggle to make art and balancing that with financial concerns. It also has one of my favourite songs, "Chase the Kangaroo" which has always been a mysterious, fun song because you know there's a depth there that goes beyond the silly "Bugs Bunny dug to China, I guess I'll go down under" line.
A bonus to taking this cd is that it also includes the CD Shades of Gray a 5 song ep released after their first cd, well, record/cassette back then. It has another of my favourite choir songs, "Fifteen Doors" since it reminds me of the only time I've seen the choir live back in 1990 in Toronto.
The first song is simply called "Consider" and that sets the tone for the whole disk. So much to think about and to mull over, still mulling over it 22 years later, well I guess I only heard it 20 years ago for the first time.
Lyrical snippets from Chase the Kangaroo:
"The cosmonauts were first in space/ to search for God and find no trace/ with a killer cloud of reason for rhyme/ the devil enlightens the children of time."
Other standout songs include "So Far Away", "Cain", and "Sad Face"
Collective Soul
by Collective Soul
Collective Soul leapt to prominence with "Shine" from Hints, Allegations and Things Left Unsaid, well, I guess it came earlier than that, but got re-released on that CD. I'm only saying this so no one will post and try to correct me. Anyway.
"Shine". It's why I love Collective Soul. Not their song, though I do like it too. It's what they do, as far as I can tell. Either they've got some clever gimmick going to draw a wider audience or they've got some very spiritual message to deliver. Shine is what they do. They've been signed to major labels throughout the years, got lots of play on regular radio and MTV/MuchMusic, and yet, hidden in front of your eyes, or there in your ears, is the message of love and hope and redemption and mercy and grace and God, that is nearly the whole Christian message. I say nearly, because they don't refer to Jesus very often and certainly not very plainly. Yet, they shout, sometimes scream his acts, his heart to a world in despairing need of that message. I always remember someone telling me they first came to Christianity through the questions being asked by the Moody Blues back in the 70's. Similarly, Collective Soul asks and sometimes answers the questions that we all need to ask.
I chose "Collective Soul" as a desert island disc because it has a few more songs on it that I love than any other, especially, "The World I Know" (please follow the link to see a music video of this song, this was the video that first got me listening to Collective Soul.)
I know that music snobs sometimes look down their noses at Collective Soul as being pretty much the same thing all the time and pretty straightforward musically, but I like it. Don't know why really, but I'm not alone.
Lyrical snippets from Collective Soul
"Cleansing out your tarnished heart/ its simple". "Confine me in walls of truth/cause love does what love should do/No more sentence all of my pain has been freed/ Why should this end when your mercy is all I need." "She gathers rain/ To wash away all her guilt and pain/ she gathers rain/she gathers rain/To wash and cleanse and make her whole again." "Resonate tones of saving grace/Separate from the gods of hate/Alleviate all our doubting ways."
Essential Johnny Cash
by Johnny Cash
Who doesn't like Johnny?
"Blistered", "Busted", " Cisco Clifton's Fillin' Station", "Daddy Sang Bass",
"Dirty old Egg-Sucking Dog, "Don't Take Your Guns to Town", "I got Stripes", "Jackson", "Ring of Fire", "The Legend of John Henry's Hammer", "The Rebel-Johnny Yuma", Something for every minute of every day.
Furthermore: From the Stage and From the Studio
by Jars of Clay
Only one, no, two reasons why this one makes the list… "Love Song for a Savior". My dear wife gave me this song before we were married, okay before we were engaged, okay, before I even knew I loved her to let me know where she was. I guess it helped me to confirm where I was. Makes us stop and listen every time it comes through the speakers.
Furthermore also has "Dig" on it, and though I prefer the original by the late great and much missed Gene Eugene, and his band Adam Again, I just appreciate that the Jars of Clay boys recorded it and let it reach a far broader audience than Adam Again had.
Lyrical snippets from Furthermore:
"Though the pain is an ocean/Tossing us around, around, around/ You have calmed greater waters/ Higher mountains have come down." "The earth is hard, but the treasure is fine/ at the sea, I'll wait on my knees"
Good Monsters
by Jars of Clay
I don't know why I really like this album so well. Its hard to nail it down. Maybe it's the combination of things, sum of the parts in this case adding up to something greater than something or other…
First its risky. There are lyrical things here that are risk taking. To make your first single have as its most memorable line "I'm just a dead man/lying on the carpet/Can't find a heartbeat" is pretty risky. People seemed to get that one though since the song got lots of radio airplay. It also has the song "Oh My God" which could be taken in the wrong way through careless listening. There are risky musical things too. There's a little more aggression here than on most Jars releases. Not that I know all their cds at this point. So maybe I'm wrong, it just comes across pretty bold.
Second its honest. There are so many good thoughts and honest self assessments, awareness of human frailty and our times. This is not really new or unique for Jars of Clay, but it's a strong point in this recording.
Third, its gentle. This is a part of what makes Jars unique I think, that in the boldness and raw honesty, there is a gentleness available near the surface. See the stellar Julie Miller tune they cover for a good example, "All My Tears".
Fourth, it's the best Jars of Clay have ever sounded instrumentally, well, again, best from what I know of them. They've got so many good songs in their history, but so many of them sound so similar and wear out their welcome to me after a few listens. Not on this disc. These are really good songs, musically.
Fifth, we got to see them do lots of these songs live and so that adds a lot to the experience of listening to it on CD.
Lyrical snippets from Good Monsters:
"I have no fear of drowning/it's the breathing that's taking all the work"
Graceland
by Paul Simon
Well, what's not to love about this cd? I added it to the list because it has so many great songs, You Can Call Me Al's music video always brings a smile and just the reminder of it would be worth it to have along. Then again, the reality is, the longer you sit alone on a desert island the more isolated from the rest of the world you'd feel…listen to me, sounds like I have actually been stranded on a desert island before…is anyone actually reading this? Am I typing up my longest post ever only to have people skim through and read which discs are on my list and not reading my stirring prose?... skill testing question… 4 + 4 =___ post answer in comments and I'll send you a bonus link!
Where was I?
Isolation brings forgetfulness and Graceland will bring back that I'm part of a far bigger world. What great music on this disc infused with South African musicians like those from Ladysmith Black Mombazo. Simon has a great time experimenting and making something new and old all at once.
Lyrical snippets from Graceland:
"These are the days of miracles and wonders, This is a long distance call, The way the camera follows us in slo-mo, The way we look to us all." "Why am I soft in the middle, The rest of my life is so hard." "He sees angels in the architecture, Spinning in infinity, And he says 'Amen' and 'Hallelujah'." "You sure are the burden of my generation, I sure do love you, But let's get that straight."
The Joshua Tree
by U2
Okay, so is it a cop out to take what is likely one of the best selling and best known albums of all time on a desert island with you? I thought so. But. I'm not taking any other U2 and this one is just plain great. I love singing with Bono, sometimes it makes me cry, or feel like it. You can't sing some of their words with his voice and not weep for the world, yourself, and sometimes for the very joy of life.
Lyrical snippets from The Joshua Tree:
"You got to cry without weeping, Talk without speaking, Scream without raising your voice."
The Master and the Musician
by Phil Keaggy
Phil Keaggy has said that, based on awards he's won, people are trying to tell him to close his mouth and play. Its his guitar work that has won him a great following, that and his gentle lyrics and simple, everyman persona.
On The Master and the Musician, Keaggy offers his guitar as a gift to the Master. The songs are soft yet complex, a real Medieval sound. I'm not a real classical or instrumental fan. I don't claim to know how to appreciate instrumental music that well. One song sounds great to me. Two are great. A whole album and they start to blend together. The Master and the Musician doesn't do that, to me. Every song is unique. It can just be in the background or you can close your eyes and soak in it. A beautiful offering from a master musician to the Master Creator.
Mr. Buechner's Dream
by Daniel Amos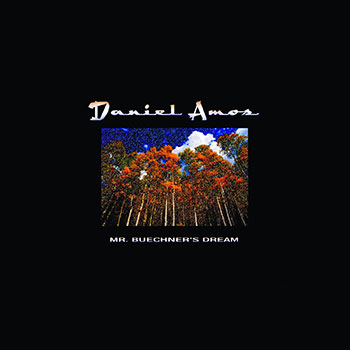 Where to begin. The album title I suppose. It directs us to the idea of the album but also the content if you know anything of Frederick Buechner. Terry Taylor, the lyricist for Daniel Amos takes us on his interpretation of what some of Mr. Buechner's dreams must be like. He writes creative songs based on several characters from the Bible most of the rest explore the mystery of God being everywhere around us, leaving "Fingerprints around us and on our lives.
I got through one paragraph without mentioning that there are two discs and 33 songs! Many bands wouldn't be able to do that in 3 albums. Oh, and mine is signed, number 87 for anyone who cares and who maybe has this classic at home.
The music holds quite a Beatles/British invasion era feel to it, though recorded in 2001.
The only time I ever met Terry Taylor I told him that I was inspired by his lyric writing to read a lot of books I'd never paid any attention to before. That was about all I said. I often wondered after if that was insulting, that it wasn't his writing or even the Spirit that inspired me, it was other people's writing. Maybe I'll get another chance at the end of the week when I see him with The Lost Dogs in Detroit! Let it suffice to say here that I'd like to print out all the lyrics here from this disc but leave you with
this link
so you can look them up yourself if you want, and leave you with these few:
Lyrical snippets from Mr. Buechner's Dream:
"It's a miracle we ever had faith, enough to have a laugh in that face" (Sarah's perspective), "They're unaware they moved a mountain with fumbled prayers and bloodied knees", "Who's softly slipping down the stairs? Is someone sitting in that empty chair? Who's moving the air and brushing my hair with their fingertips?", "My beautiful Martyr in your crown of thorns, in your robe of fire, in your gown of scorn, you're so beautiful, my beautiful martyr." "And there may not ever be anything here new to say, but I'm fond of finding words that say it in a different way." "Some wounds will never mend says The Author of the Story."
Motorcycle
by Daniel Amos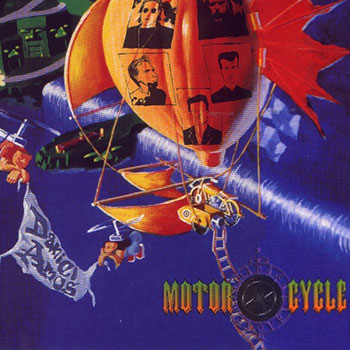 So, I've just gone on and on about Terry Scott Taylor's lyric writing when alphabetically I have to go into it again? (And next is another disc written mostly by him also…) Well, I won't except to point out the difference between Mr. Buechner's and Motorcycle. Motorcycle was released in 1993. The album cover is four panels of a fantastic painting incorporating the songs into one floating island at the edge of the world, or at the "World's End" It's mostly about the time when time will be no more. There are a few lyrics about hypocritical Christians and personal guilt, along with a couple of fantastical songs about his son and daughter. Motorcycle is a more glitzy production than Mr. Buechner's Dream so it comes out more layered, complex and fun. The music is again Beatles influenced but has lots of other sounds going on too, Flaming Lips, Beach Boys, Wilco, have all been mentioned as influences or favourites for Taylor. The combination of Spirit, flesh, imagination, wordsmithing, parables and bluntness make this an absolute joy to listen to.
Lyrical snippets from Motorcycle:
"Couldn't face the wrong in myself, so I condemned somebody else", "The lunatic fringe by the Quackery, Miracle Sludge from the factory, Come to trouble the water, Angels and otters, Psychosomatics cleaning their attics-they learn, Grace is the smell of rain", "She gets her just desserts, 'cause the sky is in the pie, she wants her cake, she eats that too as the meringue clouds roll by", "The truth would set them free, but no one there can see, the greatest enemy is the exclusivity of Wise Acres"
Nazarene Crying Towel
by The Lost Dogs
The liner notes tell a sad funny story of Terry Taylor grandmother who lived her days full of joy and sadness. When guilt or burdens hit her she would go into loud crying out sessions waving a towel over her head, unburdening her soul to her Saviour. This obviously made a lasting impression on a young Taylor. Years brought him from fear of these outbursts to tolerance to quiet laughter, but its from the heart's longing for resolution of our pain and guilt and sadness and longing that Nazarene Crying Towel is drawn.
Many of these songs read like Psalms, quoting from the liner notes they, "they speak of the peaks and valleys indigenous to the temporarily earthbound, spiritual landscape we occupy in Christ."
My favourite song from this cd (and I believe my dear wife's too?) is Crushing Hand. It summarizes the disc in my mind.
Thy will move me
Thy will use me
You lay your crushing hand
Your mighty hand on me gently
You know my name
Wound me
You know my frame
Heal me…
These are folk-spiritual songs for regular folk. The songs are quiet (give or take Cry Out Loud) and thoughtful and gentle and deep in their simplicity.
Lyrical snippets from Nazarene Crying Towel:
"Like Moses in the desert, I have a stuttering tongue, But my friends were blinded by another god , the Lord said tell them, They will hear you, you're my chosen one", "Can't take the fire but I'll take a spark, if You come down here we can chase that dark", "If shame haunts you look to Jesus He will pardon your every sin, How He loves us"
Play
by Moby
One of these discs is not like the other. Moby's Play is just great music and fun lyrics mixed with depth and sadness and a tip of the hat to gospel and blues songs of the first part of last century. Sampling has been done for quite a while now, but rarely as well or consistently from as far back in recorded music history as Moby does with Play. What a sentence that was… I hope it works! Techno blues gospel. Great mix. I love Honey, Why Does my Heart, South Side, Natural Blues, Run On.
Lyrical snippets from Play:
This album is all about the music, but the lyrics are pretty great in some places. The best snippets though are Moby's random musings in the liner notes, which, though I don't agree with some of what he has to say there, give pause.
Sticks and Stones
By The 77's
I almost forgot about this one as I was making my list because I don't have it on cd, only cassette, well I do have it on a burned cd somewhere, but it hasn't made it onto iTunes yet. Thankfully, I remembered before it was too late (its currently Saturday afternoon as I type this, still time to make revisions).
I have to have something by The 77's first off, and I'm sure going to miss not having their classic song, The Lust, The Flesh, The Eyes and the Pride of Life, but pound for pound, Sticks and Stones is my favourite by far.
When this was originally released it was a bunch of unreleased songs from their catalogue, songs that didn't seem to fit any of their previous three releases. Album four turned out to be the 77's at the top of their game. Mike Roe as a lyricist often comes across as a man dealing with love and regret. That is never more apparent so consistently as on Sticks and Stones. Standout songs include God Sends Quails, my personal favourite and Don't This Way which many people say is the best 7's song of all. The liner notes say Don't This Way is the saddest song they've ever heard. They might just be right.
Lyrical snippets from
Sticks and Stones
:
"You failed, you picked the right time to fail, got your past behind you, got your future in front of you, one foot drags behind you, one foot tripping in front of you." "You can't have love without dreams and you've got to have some dreams this side of paradise",
We Like to Have Christmas
by The Lost Dogs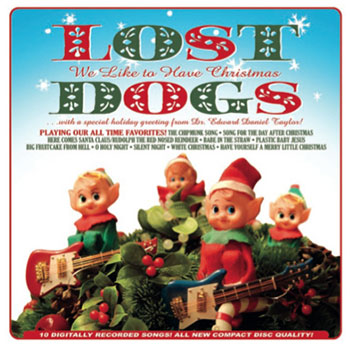 Again, you can never have enough Christmas music and this one has a few classics around our house, including "Fruitcake" and "Little Babe in the Straw". Adding to the history of this album is that my dear wife and I saw The Lost Dogs at Christmas a couple of times and enjoyed their banter as a lead up to that season. Of all seasons of the year, The Lost Dogs are best suited to Christmas because of the wonder and depth they bring to their lyrics and it comes out well on this disc. That and good old-fashioned fun on some songs. Oh, my dear wife can listen to Derri Daugherty sing Have Yourself a Merry Little Christmas over and over too.
Lyrical snippets from We Like to have Christmas:
"Here's a song, here's a sigh for the day after Christmas" "The wisemen aren't so smart all they can do is hibernate and dream there in the dark of the countless trips to Bethlehem and one they'll make again, but most time they'll spend in boxes where the starlight can't get in" "Little babe in the straw, save us all" " oh what in the world's that green thing there, is that some kind of gel, a ginsu knife can't cut through that…like a chain letter from the devil hisself"